The Helepolis Agent is a powerful encryption detection service that stops en masse encryption, preventing your data from being compromised and held for ransom. The new wave of cyber criminals use encryption viruses to hijack company data and brazenly demand payment with the inducement that your data will be restored. Facts show, however, that you only have a 5% - 10% chance of receiving the correct decryption key to properly recover your data.
It's the fastest and most powerful tool of its kind - Time is Money and Helepolis will help you save both!

Helepolis is your #1 source for encryption detection and prevention from ransomware viruses. Protecting your  company endpoints from these latest threats should be your number one goal this year to prevent the widespread damage these viruses can do. Helepolis will protect your company from 99.9% of all known and unknown encryption viruses.
Here are a few real world examples of companies that got hit by a ransomware virus that would have been stopped easily by Helepolis.
How one ransomware attack cost a Buffalo, NY hospital $10,000,000
Victim: Erie County Medical Center
Ransomware: SamSam
Date of Attack: April 9, 2017
Length of recovery: More than six weeks
Cost of recovery: $10,000,000
Attack fallout:
6,000 computers wiped, restored, and redistributed
Patient notes written and circulated by hand for 4 weeks
2 weeks without electronic patient registration and limited access to email
3 weeks without electronic communication with the hospital lab
A full month without electronic prescribing
How one of the world's largest law firms was paralyzed by Petya
Victim: DLA Piper
Ransomware: Petya / NotPetya
Date of Attack: June 27, 2017
Length of recovery: At least two weeks
Cost of recovery: Millions
Attack fallout:
Full day without phones
6 days without email
2 weeks without access to key documents
How ransomware took San Francisco's PBS station offline
Victim: Public TV and radio station KQED
Ransomware: Mole
Date of Attack: June 15, 2017
Length of recovery: Over a month
Cost of recovery: Undetermined
Attack fallout:
12 hours of dead air on the station's online broadcast
Loss of pre-recorded segments
2 weeks without email
TV broadcast moved to nearby university studio
Loss of access to the station's content management platform and access card system
How ransomware cost an Idaho county $100,000
Victim: Bingham County, Idaho government
Ransomware: Samsam
Date of Attack: February 15, 2017
Length of recovery: Estimated to be a year or longer
Cost of recovery: $100,000
Attack fallout:
Complete rebuild of servers
Every department in the county affected
$3,500 in paid ransom
Emergency dispatchers had to use physical maps to direct officers
Thousands of radio transmissions, calls, and police reports logged manually
Behind the largest ransomware payout in history
Victim: Web hosting provider Nayana
Ransomware: Erebus
Date of Attack: June 10, 2017
Length of recovery: Over a month
Cost of recovery: $1,000,000 in paid ransom, total cost undetermined
Attack fallout:
Data on 153 servers encrypted
Websites belonging to 3,400 customers affected
Affected customers issued 3 months free service and 30% discount in perpetuity
Customers with unrecoverable data loss given free service in perpetuity.
The point of these examples is to show you no how secure or reliable your existing antivirus/anti-malware solutions is these new ransomware encryption viruses can devastate a business...and very fast! Don't put your company at risk by relying only on your current traditional antivirus/anti-malware solution.
How Do We Compliment Traditional Antivirus/Anti-malware Solutions?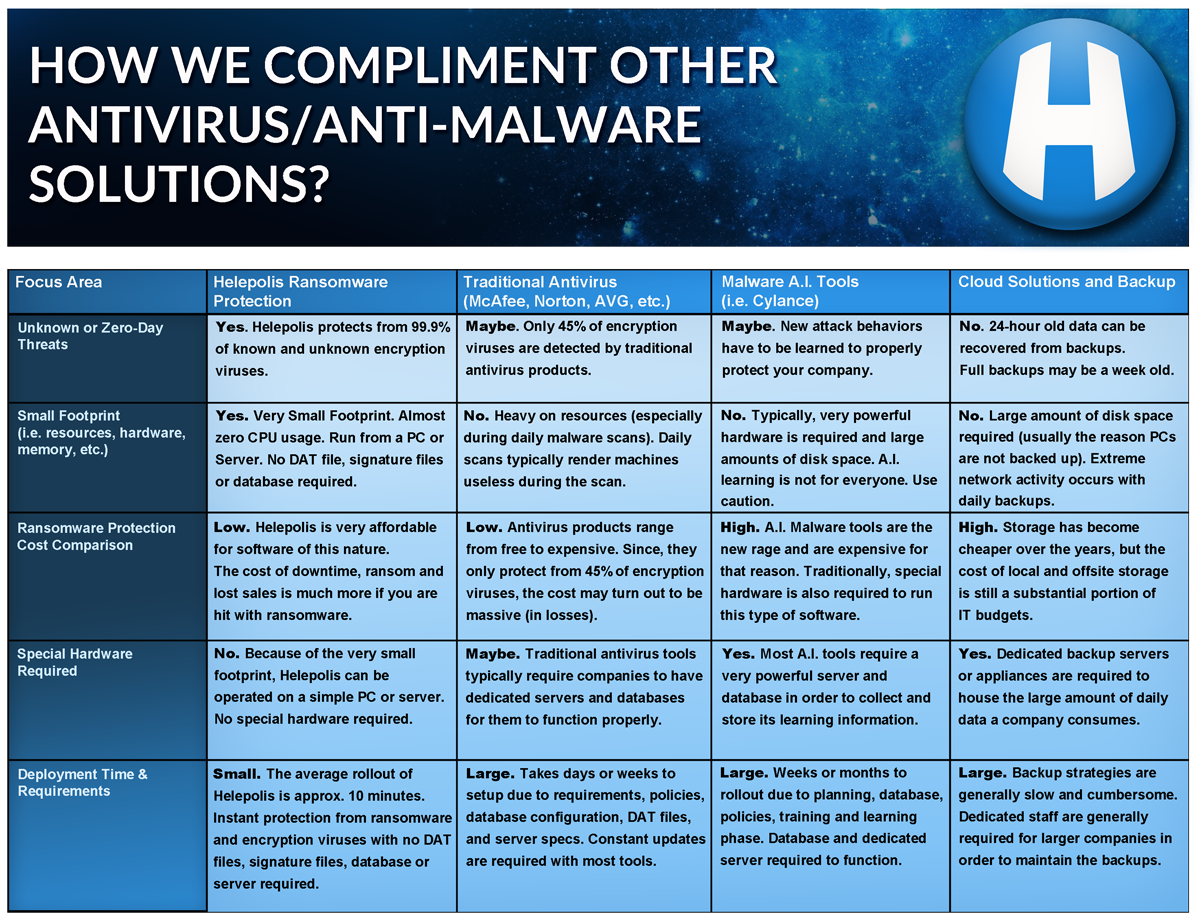 Helepolis Admin Console
Helepolis comes with a powerful Admin Console that will allow you to configure and distribute the Helepolis Protection Agent to all of your company PCs and Servers. The Helepolis Admin Console also comes with 4 powerful remote management tools to help you maintain and update your environment on a daily basis.
Ransomware
Protection
Helepolis is designed to run in any size environment and comes with an Admin Console to allow complete control of the Helepolis client such as Custom Blocking Unwanted Files, Processes and Registry Settings. The built in Encryption Detection feature will block all known and Zero-Day Ransomware Threats. Helepolis is not a replacement of an antivirus or firewall, but is a tool that works alongside them to protect against encryption viruses and ransomware.
The Helepolis client is installed as a service and consumes almost zero CPU or memory on your endpoints. The Helepolis service sits and waits for commands to tell it to activate and protect the PC. Think...within seconds you can completely protect your entire company IT infrastructure from Windows Desktop PCs to Windows Servers, Helepolis will protect them all.
Encryption
Detection
With cyberattacks on the rise, Helepolis protects against 99.9% of all known and zero-day Encryption Viruses. Whether you're a small, medium or enterprise company, you are vulnerable to encryption viruses and ransomware without Helepolis. Helepolis does not rely on signatures files, DAT files or databases to detect encryption ransomware instead it uses a proprietary encryption detection engine to stop all known and unknown threats.
Most companies took days to figure out how to handle recent attacks such as WannaCry, Petya and Bad Rabbit. Helepolis quickly handles the threat without affecting production or end user experience, ultimately allowing your company to then take its time with regular Windows Updates and Antivirus patching without the chaos. Helepolis will prevent all of these types of attacks using new detection methods nd algorithms that traditional antivirus tools overlook.
Management
From Anywhere
Using our web application, you can easily manage your environment remotely from anywhere in the world using any internet capable mobile device. Perform software pushes (instant or scheduled), file/folder copying, process/system/registry administration, manage your Read-Only Citrix Servers/Virtual Machines and many other IT administration functions - all from your mobile device.
This will provide piece of mind that you can manage & protect your company from anywhere and help maintain the integrity with your clients/employees. The Mobile Command Center has several add-ons such as Software Scheduling, Controlled Ransomware Lockdown & Two-Factor Authentication to ensure the best protection against cyber attacks for all of the endpoints in your company.
Purchase Helepolis, Install, Configure & Relax - Your Protected!
Commercial users will receive a site license of Helepolis.
Whether you have 50 or 5,000 PCs in your company, your license covers 1 entity. Contact Us for Enterprise Pricing if your company has over 5,000 PCs.
System Requirements
Operating Systems Supported:
Windows XP, Windows Vista, Windows 7 (all versions), Windows 8 (all versions) or Windows 10 (all versions)
Windows Server 2003, Windows Server 2008, Windows Server 2012 & Windows Server 2016
Disk Space and Memory Requirements:
128 MB of Memory
5 MB of Disk Space (200 MB if you require the .NET 4.5 runtimes)
Additional Requirements:
Microsoft.NET 4.5 SP1 Framework
Small Footprint
Helepolis takes up very little space on your PC leaving a very small footprint when running
processes. Helepolis is dedicated to providing you with the most efficient and effective software to keep you protected, all while remaining relatively silent on your PC or server.
Low CPU Usage
Helepolis is designed to have low CPU usage, giving your PC full functionality while the toolkit works to keep your PCs/Servers completely protected at all times. The process and algorithms carried out by Helepolis has been created as efficient as possible, working in multiple ways to shield and protect your PCs and servers from the latest ransomware threat. Once enabled, the 3 processes will start blocking processes, monitoring folders, and protecting your registry.
Fully Customizable
Helepolis is designed to be fully customizable to make it as efficient as possible for your company. Helepolis allows your company to customize clients, allowing you to add files and processes to the software as needed. This will ensure your company is receiving the full extent of Helepolis' protection leaving your data as safe as can be in the case of a cyber attack.
Fast Technical Support
Helepolis offers you fast and invaluable support to assist you with any problems you or your company may be facing. It is our goal at Helepolis to develop a good relationship with our clients and this begins with the customer service we provide when you run into issues or have questions.
Helepolis Remote Features
* No Client Agent or RDP License Required *
Helepolis Ransomware and Encryption Prevention Overview Video